Hosting, Maintenance & Support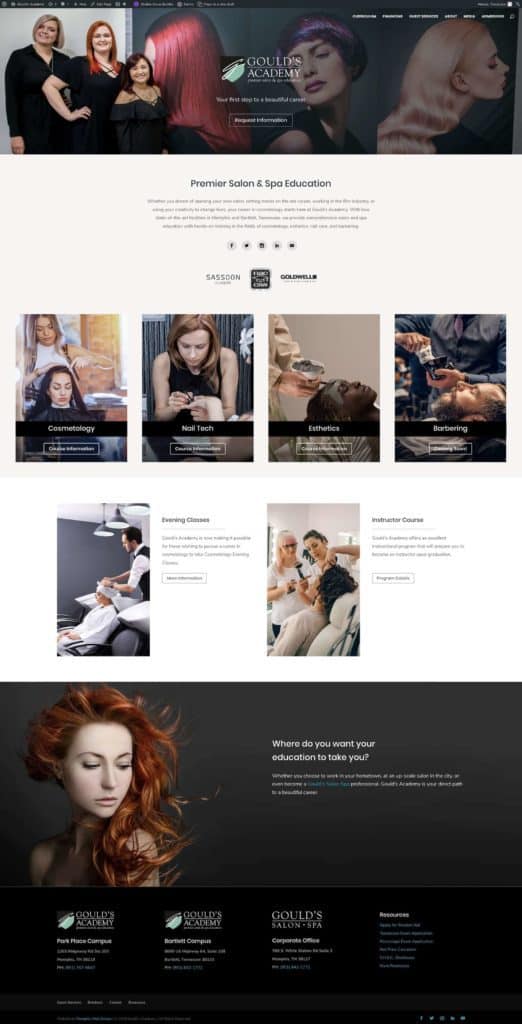 Maintaining Your Website
Websites are no longer just static pages on the internet. Modern websites are dynamic, software-driven applications with a lot of moving parts. They have to be in order to adapt to evolving internet technologies and to keep up with consumer demands and expectations. Then there are the mighty search engines. If a website is not stable, secure, and functional on any device, search engines are reluctant to recommend them to their users.
Keeping software updated and fixing usability and security issues as they arise is an essential part of maintaining any website. But there's much more, which is why we provide service plans to make sure all your bases are covered.
SiteCare Plans
To guard against unexpected expenses for repairs and troubleshooting, and to provide you with the services and support you will need to keep your site updated and running smoothly, we offer a variety of service plans tailored for different types of websites.
Best for very small sites (Less than 4 pages), no web applications, content that rarely changes, and sites that are at lower risk of malfunctions or data loss.
Best for average websites (4 to 10 pages) with basic web applications, content that occasionally changes, and are at moderate risk of malfunctions or data loss.
Best for large sites (More than 10 pages) with advanced web applications, content that changes frequently, and are at higher risk of malfunctions or data loss.
Managed Hosting
Free SSL Certificate
Optimization Pack
Software Updates
Basic Content Updates
Free Repairs
Application Support
Content Publishing
User Management
Monthly Reports
Managed Hosting
Your site is securely hosted on Google Cloud servers optimized for speed and performance on the WordPress platform. Should any server-related issues arise, we work with the hosting professionals to bring your site back online and restore it to a healthy state.
Backups
We have a redundant system of backups. The first system backs up every day and stores copies on Google Cloud for 30 days. A secondary system will create a restore point every 30 days and store copies on a secure Amazon S3 cloud server. Each of these copies kept for 90 days. **Hourly backups are available for high-traffic websites.
Uptime Monitoring
We are notified if your site becomes inaccessible for a prolonged period due to server issues. This allows us to act promptly to resolve the issues and minimize downtime.
System Health Checks
We scan your site daily for outdated software that can trigger malfunctions and leave your site vulnerable to malware attacks.
Security Scans
Daily security scans notify us in the event of attacks from hackers, malware or other threats so we can take quick action to remove the culprits and restore your site to a healthy state.
Free SSL Certificate
In 2017 we began providing Free SSL certificates to all of the sites we maintain, and here's why:
SSL stands for Secure Sockets Layer, a security method which allows for the encryption of data when being transferred to and from a website. Not only does SSL help to protect the transfer of sensitive information, it has other benefits:
Security
HTTPS encrypts all communication, including URLs, which protects things like browsing history and credit card numbers. And because SSL prevents tampering by 3rd parties, it stops Man-in-the-middle attacks, making your site more secure for visitors.
Consumer Trust
A SSL Certificate identifies the website/business is genuine, verified and trusted. When a consumer sees that little green lock and the HTTPS:// in the address bar, it sends a signal that you respect their privacy and are committed to protecting it.
Search Engine Rankings
Search engines have a vested interest in protecting their users from malicious websites. In 2014, Google announced that having a SSL certificate installed on your website is now a ranking factor, which is another great reason to use SSL.
Optimization Pack
Free CDN
A CDN (Content Delivery Network), is a collection of servers all over the world that hold a copy of your site's files. When someone visits your website, the your content is delivered from the server that's closest to them, which means your site loads even faster. We offer Free CDN delivery to all of the sites we maintain.
Continuous Image Compression
Optimizing  images is a process of delivering the highest quality images in the appropriate format, dimension, size, and resolution in the smallest possible file size.  Continuous image compression reduces the size of image files every time a new image is uploaded to your website. This improves page load speeds and user-experience without compromising the quality of your images.
Database Cleanup
We periodically remove spam comments, post revisions, and other data that tends to accumulate in the database and slow down your website.
Software Updates
WordPress and other website software developers release updates on a continual basis, sometimes once or twice a month. Software updates are typically to fix bugs and a variety of security issues.
Updates also add new features and functionality that can improve the overall design and performance of your site. The main components that need to be updated regularly are the WordPress core, theme, and especially plugins.
Basic Content Updates
Basic updates to content, like replacing text or images

(Does not include adding new pages, page re-designs, or adding new applications or functionality)
Free Repairs
If free repairs are included in the SiteCare plan that you choose, you will never have to worry about unexpected expenses to for repairs and troubleshooting. Any malfunctions, cyber attacks or other issues that make your site unusable or unstable are 100% covered. Including:
Fixing bugs, conflicts or other issues related to Plugin, Theme or Framework updates.
Repairing Malfunctions due to software or server updates.
Formatting issues
Slow performance
Compatibility issues with the most common browsers and devices.
Addressing broken links
Removing unauthorized users
Recovery from malware attacks
Google Blacklist Removal
Restoring files and database from backup etc.
On websites not covered by one of our comprehensive plans (Prime and up), we bill at an hourly rate for troubleshooting and repairs. Major and minor repairs often exceed 12 hours per year for an average website.
**Damages caused by anyone outside of our team who is given access to the back-end of the site will not be covered, and related repairs will be billable at our normal hourly rate.

Support for Web Applications
If your SiteCare plan covers Application Support, we will provide the extra support and maintenance required to run eCommerce systems, membership systems, job boards, learning management systems, and other web applications.
**Restrictions may apply. Ask your representative.
Content Publishing
Some of our clients prefer to have us publish their blog articles, eCommerce products, events, photos, videos, and other content to save time, and keep things tidy and professional looking.

CMS Support
Content Management System Support – If you choose to manage your own content, we're here to talk you through the process, answer questions, and assist if you run into problems.
User Management
In order to ensure the safety and stability of your site, we manage access levels for anyone who has a login to the backend (the administrative area) of your website. This includes content managers, SEO specialists, shop managers, and even other web designers or developers. We are the "keepers of the gate" and we don't take that responsibility lightly.
Monthly Reports
Every month, we send out reports with detailed information about the status and care of your website. These reports include:
Updates Processed
Database Cleanups
Uptime and Outages
Number of visits
User Activity
Analytics Summary
Backups
Security Status
Sales Summaries & More